Home
- Non Adhesive Labels
Non Adhesive Labels
We manufacture a wide range of non-adhesive labels, which have similar function as self-adhesive labels. For using these labels instead of gluing, other fixation methods are used such as stitching, insertion, etc. These can be availed from us at competitive rates. These are available in following forms:
Paper
Cardboard
Thermo
With magnetic strip
With security features, such as

Holograms
Anti-duplication features
Numbering
Labels in Roll Form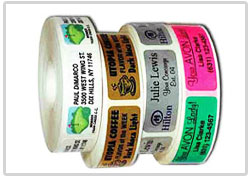 We manufacture premium quality labels in roll form. There is a wide range to choose from our pre-cut sizes or custom sizes labels in roll form. The clear laminated overcoat adds extra protection to the message and can sustain numerous unfavorable conditions. We make sure that every printed label is tested for its size, finish, printing and various other features before being sent to client's end.
Labels in roll form are used in various industries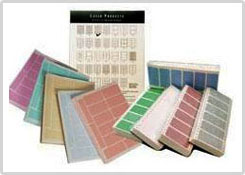 Our company offers Non-adhesive Labels in sheet form, which are available in the forms such as ink jet or laser sheet labels. These are available in various sizes and shapes at most competitive prices. These are manufactured under high quality control standards in order to provide perfect finished goods to our clients. We also offer these labels in the customized forms as per the desired requirements of the clients.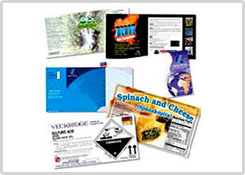 We offer our range of coloured labels in form of sheets, which is available in different sizes and in variety of colours. This range of labels also comes with a removable adhesive paper as specified by the buyer. These labels find its extensive use in various industries.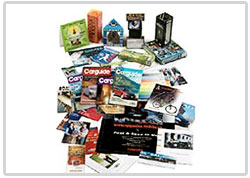 We manufacture individual labels printed on plain paper. These labels are available with or without the adhesive and liner layers. We can deliver these labels in bulk quantity within a stipulated period. The labels provided, are of high quality and fine print. The print is designed according to the guidelines provided by the client. These cater to a vast range of industries.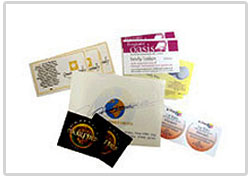 We fabricate our range of paper labels in various strengths and in different colours, but silver and gold are the colours most often used. This range of labels has high heat resistance and tensile strength. Our paper labels are made as per the necessity of the client. Some of its major characteristics are ink receptivity, wash-off time and ink retention; which makes it highly popular among the clients. Available at reasonable prices, these are known for being shielding and resistant to various elements as these labels simply remain attached to its place.