Home
- Metallized Labels
Metallized Labels
We are one of the leading manufacturers and exporters of metallized labels. All our metallized labels are resistant to light and moisture (Barrier Property). We use vacuum metallized papers, which gives the label a metallic or foil type look. Their major characteristics are: ink receptivity, label ability, ink retention, wash-off time. It is widely used in labeling bottles basically in pharmaceuticals industry, for decorative purposes and for its barrier properties etc.

Roll Labels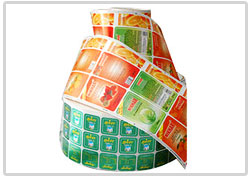 Roll labels can mean almost any type of label. Roll labels are printed the conventional way; still they remain important for their excellent value. Stock or off-the-shelf roll labels are black, white or pre-printed with background colours and messages. Available in specific sizes, our qualitative range satiates the requirements of our clients from varied industries. These labels are long lasting, attractive and competitive in price, which makes it a demanding product in the industry.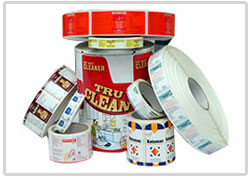 PVC Labels make your products more distinctive and improve your product image. These are made from high quality PVC materials and possess information related to your product. We offer PVC labels in various colours. These labels have excellent thermal and physical properties giving them versatility and flexibility. Available in various sizes; these can be customized as per the specifications provided by our clients and can be used on all kinds of surfaces.
Backed by latest technology, state-of-the-art machinery and skilled professionals; we are prepared for any challenge and requirement.