Home
- Holographic Strips
Holographic Strips
Our large assortment of special purpose labels with holographic strip is available in varied colours and sizes. Offering customized products as per the requirements of our clients has made us earn the praise of our clients in the industry.

These holograms are recommended for Brand Protection, Document Protection, Brand Promotion and Aesthetic look etc.
Holographic Label Strip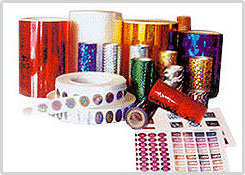 Holographic label strips are widely used in packaging industry. These strips are basically used to protect the product from forgery, as they are hard to be copied. The impression of the hologram is embossed on metallized polyester film. Then a special heat activated adhesive coating is provided in the foil. This coating enables the user to laminate the holographic strip to the product. These strips are extensively used in Brand Protection and continuous Affixation etc. These Holographic Labels are designed according to the client's specifications.